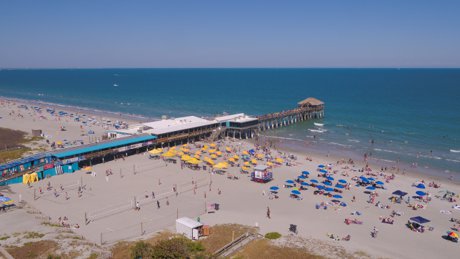 A popular vacation spot considered Orlando's Beach, Cocoa Beach offers plenty of things to do and an amazing beach to enjoy. Whether you choose to buy one of the homes for sale in Cocoa Beach or just visit for the weekend from Orlando or another state, there's plenty to enjoy throughout Cocoa Beach.
Living in Cocoa Beach
If you prefer to call Cocoa Beach home for the entire year or a portion of the year, you'll gain access to a ton of great beach and water activities to enjoy. Cocoa Beach offers plenty of maintenance-free condos, along with single-family homes, and other types of real estate to choose from. Living in Cocoa Beach provides the real Florida beach living experience.
Where is Cocoa Beach Found?
Found on the Space Coast, which is a part of the Eastern Coast of Florida, Cocoa Beach is located just south of Cape Canaveral and just north of the Patrick Air Force Base. It's found about 30 miles from Titusville, FL, and about 60 miles from Orlando.

The location of Cocoa Beach is close to many other popular areas in Florida. It's about 81 miles from Daytona Beach and about 86 miles from Port St. Lucie. The location is also just 67 miles from Walt Disney World.
Things to Do in Cocoa Beach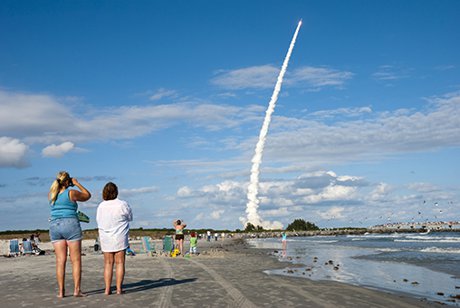 No matter the type of real estate you choose to buy in Cocoa Beach, you'll be close to some of the most amazing things to do. The Space Coast offers great beaches all throughout the area and plenty of excellent attractions.

If you enjoy the idea of space travel, the Kennedy Space Center is found nearby offering plenty of fun for the entire family. Cocoa Beach is also home to a world-famous pier and the world's largest surf shop.

Along with the space center, Cocoa Beach offers hiking in the nature preserves and plenty of water and beach activities to enjoy. Lori Wilson Park offers a beautiful place for a picnic and plenty of things to do, as well.

Merritt Island is found nearby, which also offers more things to do for those looking to live in the Cocoa Beach area. With so many things to do, plenty of great dining, excellent shopping options throughout, and more, you'll never get tired of calling Cocoa Beach home.

There are plenty of homes for sale throughout the Cocoa Beach area. When you're ready to move closer to the beach, Cocoa Beach is a great option in Florida with plenty to offer for all types of home buyers.