A rather unique attraction located near Hunters Creek south of Orlando, Gatorland has been open since 1949. Owen Godwin created the attraction, which featured thousands of alligators, crocodiles, and many other unique animals throughout. It's known as the "Alligator Capital of the World."

Gatorland is known for rescuing nuisance alligators from trappers. These gators would be killed for their skin or meat if Gatorland didn't rescue them. The Breeding March found at the park was even used in the filming of Indiana Jones and the Temple of Doom in 1984.

For those fascinated by alligators and crocodiles of all sizes, Gatorland is the place to be. They house alligators from babies all the way up to 14-foot monsters. You will even find white leucistic alligators here, which are incredibly rare.

Along with the alligators and crocodiles, Gatorland is home to a free-flight aviary, many unique animal shows, a petting zoo, zip lines, and more!
The Animals
Many visit Gatorland for the animals, which include plenty of unique species, such as:
American Alligators
Albino Alligators
Nile Crocodiles
Saltwater Crocodiles
Parrots
Emus
Flamingos
Florida Panthers
Florida Bobcats
Tortoises
Snakes
Toads
Lizards
And More!
The animals provide plenty to see and enjoy throughout the park.
Experiences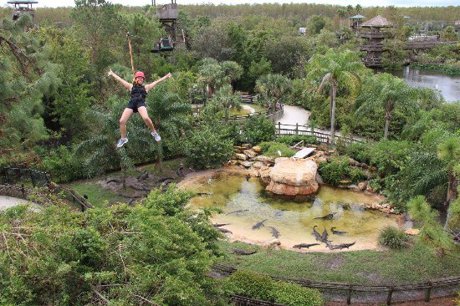 Throughout your time at Gatorland, you can take on many adventures and experiences from the Meet-A-Gator experience to the Adventure Hour. Enjoy the Screamin' Gator Zipline or take on the Gator Gauntlet. The park even provides an opportunity to be a trainer for a day or you can enjoy the newest experience, Stompin' Gator Off-Road Adventure.

Maybe the most famous attraction is the Gatorland Express, formerly known as the Ol' Iron Horse Express. This railroad attraction was originally opened in 1961, providing the oldest amusement attraction in Central Florida.
Gator Spot
While a visit to Gatorland is quite a bit of fun, you don't have to go all the way to Gatorland to enjoy what they have to offer. In 2015, Gatorland teamed up with Fun Spot America to offer Gator Spot. This $1 million attraction provides a taste of Gatorland within the Fun Spot American Theme Park for those staying in or living close to the tourist area known as I-Drive in Orlando.

Gator Spot allows visitors to enjoy taking photos with gators, along with feeding them. The attraction features the leucistic alligator known as Bouya. This gator is actually white and has blue eyes.
Visiting Gatorland
Whether you're just visiting the Orlando area or you're a resident living in Central Florida, a trip to Gatorland provides plenty of fun. Tickets are affordable compared to other Central Florida attractions and packages are available for those looking to enjoy experiences throughout the park.

The park often offers specials ticket prices for Florida residents and they do provide unique events throughout the year. If you live in the Hunters Creek area, you'll gain easy access to Gatorland. Those living in the main tourist area of Orlando near I-Drive can enjoy the gators at Fun Spot America's Gator Spot.