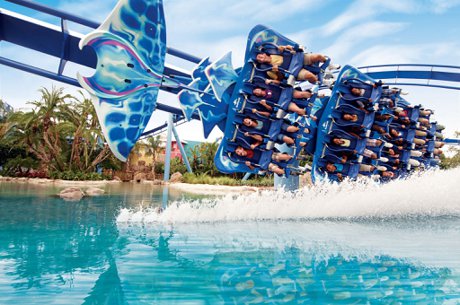 While Universal Studios Orlando and Walt Disney World may overshadow SeaWorld Orlando, it's still a very popular attraction in Central Florida. Offering Florida residents several annual pass options, along with plenty of great events throughout the year, many residents living near Orlando spend multiple days at SeaWorld Orlando each year.

Along with the SeaWorld Orlando theme park, this attraction includes a water park and a day resort. The water park, Aquatica, is rated as the #1 Outdoor Waterpark in the United States by a poll.

The day resort, Discovery Cove, is one of the most relaxing and more unique experiences found in Central Florida. With all three attractions providing plenty of fun, it's no wonder people moving to Central Florida choose Williamsburg and other communities close to the parks.
SeaWorld Orlando Attractions
Compared to Universal Studios and Walt Disney World, SeaWorld Orlando doesn't offer nearly the size. However, it's home to three of the largest, fastest, and most thrilling roller coasters in all of Florida. Mako, Manta, and Kraken offer plenty of thrills for the roller coaster lover, while SeaWorld Orlando also offers plenty of shows and other attractions.

Some of the other attractions found at SeaWorld Orlando include:
Infinity Falls - A new and very popular rapids water ride
Journey to Atlantis - A thrilling water ride
Sky Tower - A 400-foot tower providing incredible views
Empire of the Penguin - A unique ride ending with a visit to the penguin habitat
And More!
In 2019, SeaWorld Orlando added Sesame Street Land with many beloved characters, a kiddie coaster, and a few other rides for younger children. Another thrilling ride, Ice Breaker (scheduled to open in spring 2020) will provide plenty of fun with four launches and the steepest beyond vertical drop in Florida.
Aquatica - The Water Park
Voted as the best outdoor water park in the country, Aquatica offers plenty of unique water slides, pools, and water attractions. With the newest attraction, KareKare Curl offering plenty of fun and Ray Rush voted as the Best New Water Park Ride by Amusement Today, there are plenty of things to do here.

Aquatica also offers two lazy rivers (one is faster) and the Dolphin Plunge water slide offering a view of unique dolphins as you ride the ride.
Discover Cove - The Day Resort
While Florida residents can get an annual pass for both SeaWorld Orlando and Aquatica, the day resort doesn't offer such a deal. Discovery Cove offers an all-inclusive experience including plenty of attractions, two meals, endless snacks, endless drinks, and more.

Along with the regular attractions, guests have the option to add a Dolphin Encounter, Animal Encounters, the Seaventure, and other experiences. Everything is included with your daily ticket, even towels, and sunscreen! It's even possible to buy ticket package for Discovery Cove that includes admission to both SeaWorld and Aquatica for two full weeks.
SeaWorld Orlando History
Offering plenty of fun for more than 4.5 million guests every year, SeaWorld Orlando was started in 1973 and later sold to Anheuser-Busch in 1989. In 2000, the company opened Discover Cove and later in 2009 Aquatica was opened.

For those living in the Orlando area, SeaWorld Orlando offers annual passes at a reasonable price. They also offer many other perks for pass holders throughout the year, along with incredible holiday events, the PraiseWave Christian Concert series, and much more. It may not be as large as the other Central Florida theme parks, but SeaWorld Orlando still has plenty to offer.