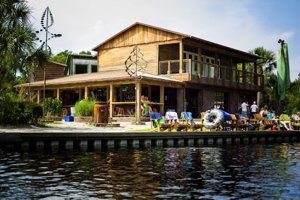 Wekiva Island in Wekiva Springs offers one of the top watering holes in all of Central Florida. Found just north of Orlando, this watering hole offers indoor and outdoor recreation with plenty of things to do. Enjoy the natural springs of Florida, experience the Wekiva River, and enjoy playing corn hole, volleyball, and walking along the boardwalk.

When you choose to visit Wekiva Island, you'll have so much to do; you'll need to come back again for the things you missed. From canoeing to paddle-boarding to the many events held throughout the year, there's plenty to experience at Wekiva Island.
The Activities
Get out on the water with a canoe and enjoy one of the best places for canoeing in all of Central Florida. You can rent a canoe for the entire day or for a half-day and launch into the river to enjoy all kinds of great views and plenty of fun.

If you prefer a bit more versatility, take out a kayak and paddle along the Wekiva River. You can even enjoy paddle boarding on the river for an even more unique experience. Go at your own pace and enjoy standing as you explore the beauty of the river. While you can rent canoes, kayaks, and paddle boards, you can also bring your own for a small launch fee.

Maybe you prefer not to go out on the water. If so, you can enjoy volleyball with a regulation-sized sand volleyball court found behind The Tooting Otter. You can reserve the court as a group or just watch others play from the bleachers.

Fishing is also allowed and there is plenty of fish to find throughout the river and other waterways. You cannot fish from the shore, however. You will need to take out a boat or canoe, or fish from one of the bridges.

The Wekiva River stays at a constant 72 degrees all year round, which makes it a perfect choice for cooling off. Enjoy swimming in the river in designated areas and you can even bring your own floats for a small fee.
The Tooting Otter
Whether you head out on the water or stay on land, you'll surely want to enjoy The Tooting Otter. It's a great spot to gather on the river for craft beer, wine, and more. This indoor/outdoor bar offers plenty of drinks, great music, and so much more. They are open from 7pm to 11pm on Friday and from 6pm to 10pm on Saturday.
Without a Paddle Cafe
When you need a snack or a meal, you can head to the Without a Paddle Cafe. With plenty of options on the menu, you'll be able to find something for everybody in your group. You can even enjoy the Cabana Feast Buffet, if it happens to be going on.
The River Banas
When enjoying an entire day at Wekiva Island, you may want to rent one of the river-banas for the day. These cabanas are found right on the river and come with an ice chest, cabinets, and plenty of seating. You can enjoy getting out of the sun and relaxing as you watch others go by on the river.
Hours, Location, & Rates
Wekiva Island is open from 8am to 9:30pm, Sunday through Thursday and from 8am to 11pm on Friday and Saturday. It's located at 1014 Miami Springs Drive in Longwood, Florida.

A $2 entry fee is necessary for each person and a $10 fee is charged for trailer parking. Rentals range from $25 to $45 depending on the type of equipment you want and how long you rent it for. Boat, canoe, kayak, large inflatable, and paddle-board launch fees are $10 to $20 depending on the day of the week.