Home › Central Florida › Orlando Metro › Orange County › Baldwin Park
Baldwin Park Florida
Baldwin Park is the place to be in Orlando and the place where everyone wants to live. What makes Baldwin Park so great? This trendy neighborhood is known for its great eateries, being aesthetically pleasing, and offering everything you could when it comes to shopping and nightlife.

It's not only a nice place to live, but this neighborhood is in a fantastic location near downtown Orlando, is full of luxury living options, and it's considered one of the most unique neighborhoods in the whole Central Florida region. Whether you are a young family looking for a place to raise the kids or you are a professional looking for a great location near work, Baldwin Park really offers something for all needs. Take a look at what life is like in Baldwin Park of Orlando.
Baldwin Park Area Map

What you will find in Baldwin Park
Baldwin Park is known for being trendy, unique, and charming all in one. This luxury neighborhood in Orlando caters to all lifestyles, personalities, and needs in a living situation. It has a combination of a small town family vibe while being urban, quirky, and perfect for the social single. There is something for the nature lover, the person that loves to be entertained, and the person that wants to live right by their downtown office. It has three A-rated public schools, a ton of social events in the community, and a beautiful outdoors life while being walking distance to everything you could need from wine bars to the bank to grocery shopping. This neighborhood's appeal is truly hard to beat.
What to expect living in Baldwin Park
When you move into Baldwin Park, you'll notice there is so much to do and see here. You'll notice that it feels traditional yet modern, that it appeals to all types of people and that while it's close to everything you love in Downtown Orlando that you really don't need the neighborhood because everything is right there.


The neighborhood was designed like the Orlando before the 1940's with traditional street lamps, elegant signs, and older building facades. You'll also notice that while you pulled in from the heavy traffic and commercial district of Hwy 50, that this neighborhood feels like a different version of Orlando completely.

There are around 8,000 residents here but should be rising to about 10,000 after building is complete. You'll notice luxury apartments, lush single family homes, lavish estate homes, townhomes, the Baldwin Park Village Center overlooking Lake Baldwin, and people of all ages living here. Families love the suburban feel while professionals love the 3 miles distance to downtown and retirees love the walk-ability of the area. It's a great place to live, work, and play.
Take a Virtual Tour of Baldwin Park
Things to do in Baldwin Park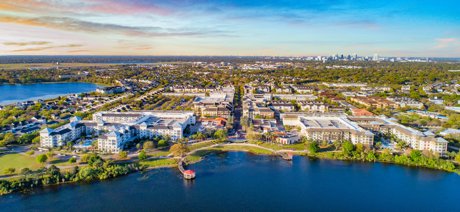 Walk along the beautifully landscaped streets with wide sidewalks, take a stroll to the parks, or take the kids to the community pools. Get your workout on at the fitness center and spend your weekend hitting the trails around Lake Baldwin. You'll notice that everything you need is right there, from the 125 different businesses in the community to the supermarket, your barber and your doctor all nearby.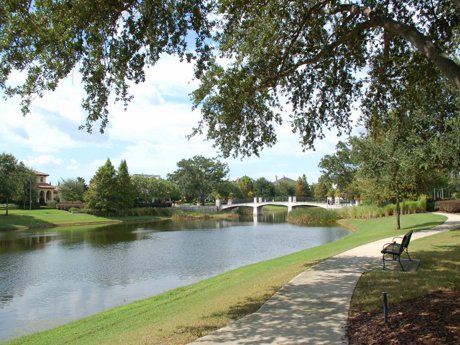 Spend Saturdays at one of the nearby golf courses or grab your morning coffee at the local coffeehouse. The kids will attend one of the local schools, Baldwin Park Elementary School, Glenridge Middle School, or Winter Park High; all within walking distance. You'll love spending your free time at local stops like the restaurants, shopping for gifts, trying dessert at Ferris and Foster's Famous Chocolate Factory, or checking out the latest movie.

There's so much to enjoy for all ages in Baldwin Park that it's no wonder so many people are drawn to this popular Orlando neighborhood!