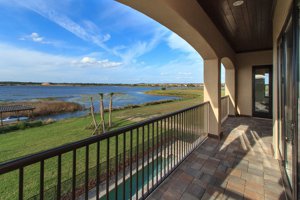 Shopping for a home with a view could mean you're going to pay more than a home without a view. In some areas of the country, listing language gets creative with phrases, such as "ocean view" or "ocean breeze". Neither of these phrases mean waterfront, but they could still cost more than a home without a view.

Whether a home with a view cost more or not is all up to the home and the person buying it. Sometimes, homes with incredible views will sell for more than the asking price due to the high number of offers received. If buyers absolutely love the view, it could go for big bucks and it could be a property that costs more.

While the view and the size of the lot didn't used to matter so much, today's buyers are looking for plenty more than they used to look for. Some love to have a massive lot, while others may fall in love the view. Even in Central Florida, there are plenty of homes with incredible views that could go for a higher price than a home without a view.
Which Views Cost the Most?
Not all views are created equal. If you only get a view from the top floor or from one window, the home may not fetch the same price as a beautiful home with huge windows overlooking the lake.

A ground-level view will provide an increase in value from about one-half-percent to 2.5%, while a rooftop view could increase the value by 3% to 5%. An unobstructed view from a higher floor in a condo building could provide an increase of 9% to 12%, as well.

The biggest increase will come from properties with an unobstructed water view. Of course, the body of water matters, as an oceanfront property will go for more than a lakefront property, in most cases. Regardless of the body of water, a home with an unobstructed water view will usually go for 10% to as much as 50% more than the same home without a view.
Shopping for a View in Central Florida
If you're seeking a home with a view in Central Florida, you'll likely be after a golf course, conservation or water view. There are several great golf course homes, which may sell for more than a comparable home without a beautiful view of one of the top area courses. In addition, Central Florida is packed with lake and ocean view homes. There are some condo buildings and homes that even provide great views of the City skylines.

Expect to pay more for a home with a view. Depending on the view, it could cost you as much as 50% more compared to a similar property without a view. Of course, there are several other factors that go into the price of any home. The view is just one of the many reasons a property may cost more.

The best way to ensure you're getting a home with a view for the right price is to work with a local real estate professional. Your agent will be able to ensure the amount you offer is fair and makes sense for the home you plan to buy.